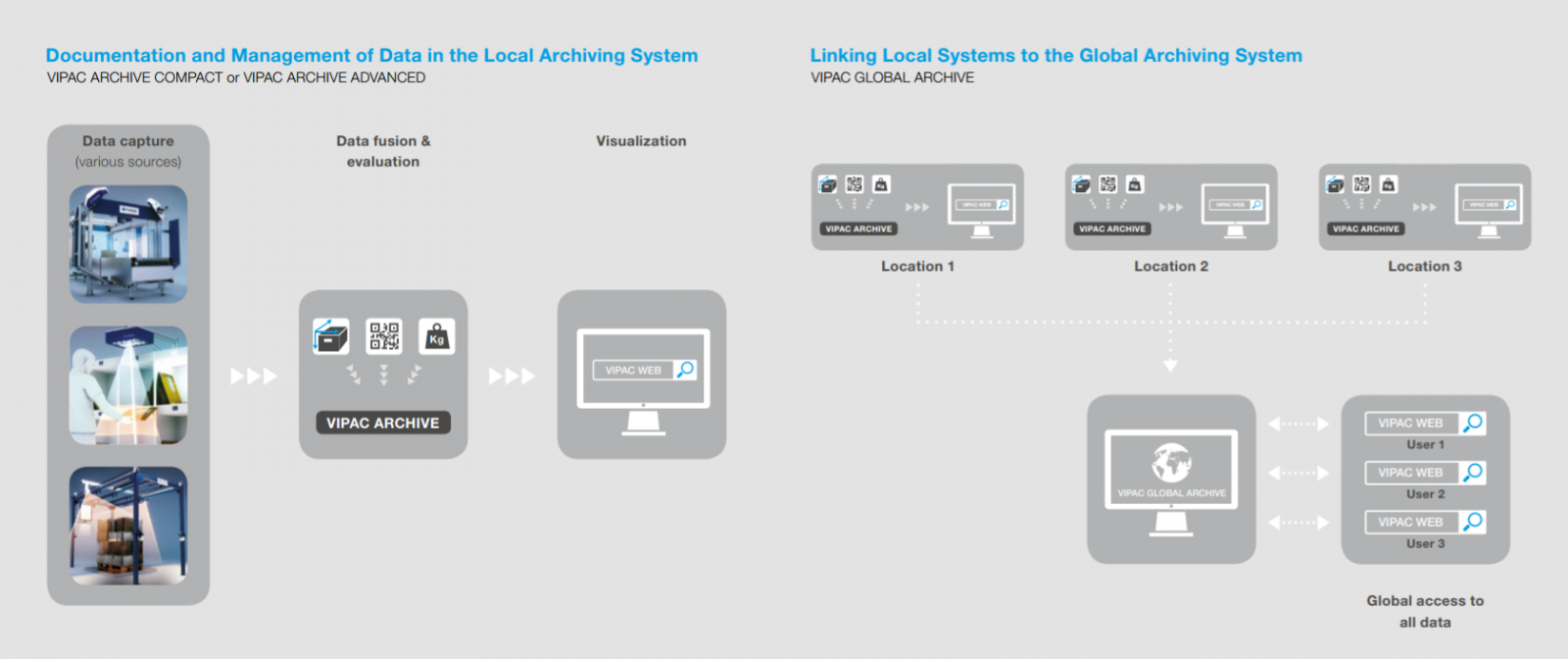 OPTIMIZING PROCESSES THROUGH ARCHIVING
Increasing digitization and e-commerce ensure continuous data growth in logistics. Our VIPAC ARCHIVE archiving system is a solution to manage and evaluate the complexity of the captured data. The archiving system belongs to our VIPAC Auto-ID systems and automatically saves all captured data, such as codes, plain text, weight, volume, and image information. The archived data is visualized with VIPAC WEB. This web-based application allows you to easily display, filter, and export data. 
Our VIPAC ARCHIVE is a flexible, customizable archiving system. From local storage options to a big data solution—the different levels of customization allow you to find the right solution for your conditions and requirements.
VIPAC ARCHIVE COMPACT software automatically saves captured package data from one VIPAC Auto-ID system in one location.
VIPAC ARCHIVE ADVANCED bundles the archived data of all VIPAC Auto-ID systems within a single location. Furthermore, you can save data for an unlimited amount of time.
VIPAC GLOBAL ARCHIVE is the perfect solution for corporations and logistics companies that operate on a global level with process chains that extend over multiple locations. The software connects the systems of all locations and archives all object data and compressed images in one global archiving system.
Features:
| | | | |
| --- | --- | --- | --- |
|   | VIPAC ARCHIVE COMPACT | VIPAC ARCHIVE ADVANCED | VIPAC GLOBAL ARCHIVE |
| Data Storage Duration | Up to 2 days | Unlimited | Unlimited |
| Data Storage Location | Local | Local | Centralized |
| Captured Systems | 1 | Unlimited | Unlimited |
| Captured Sites | 1 | 1 | Unlimited |