About AAT-FREEZING
AAT-FREEZING are among the most advanced freezing plants on the market which provides the fully automated systems for shock freezing, temporary storage and/or tempering of food in cartons or boxes. The products are loaded into the BoxFreezer automatically through a lock, then shock frozen and automatically unloaded when they have reached the target temperature. The BoxFreezer works optimally with throughput from 3 to 30 tonnes per hour. The principle is simple, but the plant can be used in many different ways: single-zone shock freezing, our multi temperature freezing mode or with complex adaptation to the industry 4.0 standard.
AAT-FREEZING – Complete Design in Detail
With over 40 years of experience in plant engineering, AAT is the partner to turn to for automation. AAT created the first BoxFreezer line in 1983. Since then the design has been continuously developed and improved. The customized automation of material flows and production processes gives AAT clients high added value and competitive advantages. All conveyor systems are designed and fabricated in-house according to client requirements and are installed and commissioned at the client's site. Besides the specialized conveying systems they can also supply the complete system for the production lines.
AAT-FREEZING – Innovative, Flexible and Powerful
The BoxFreezer is designed to ensure gentle handling of the packaging at the same time as maximum freezing performance. Up to three freezing zones are available for products that need different refrigeration processes. This is just one of the innovations in our BoxFreezers.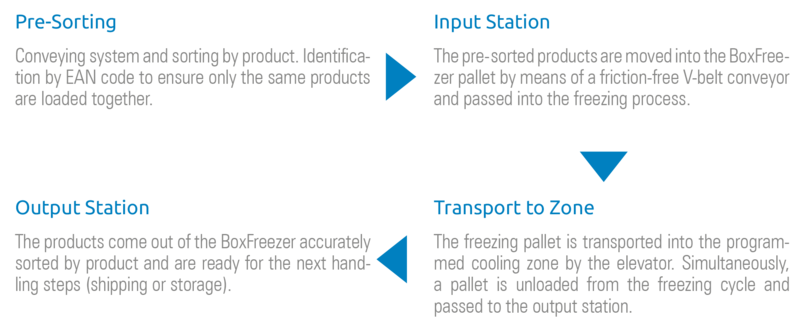 Transverse Air Stream: The freezing blowers are arranged on the side of the BoxFreezer, so that the airstream blows directly into the product stack. The freezing air reaches the product faster and shortens the freezing time. The total air path is shorter than in other systems because the air only has to cross the width of the plant. That means that if the plant is 30 meters long and 6 meters wide, then the system only has to chill the 6 meters. The result is a better temperature curve and more uniform freezing of the products.
Lock Capacity up to 2000 Units: Up to 2000 units can be loaded and unloaded simultaneously.
Multitemp – the Innovation: BoxFreezers come with up to 3 freezing zones that can be programmed independently. For example, one zone can be used for shock freezing to −20 °C, one for cooling and one can be switched off to save energy.
20 % More Compact: The BoxFreezers produce the same performance in 20 % less space than conventional designs.
Reorganizable: The system allows the pallets to be reorganized flexibly, adapting loading and unloading to different requirements.
Flexible In- and Output: The locks are customized to suit your existing plant layout. This keeps the transport paths as short as possible and allows you to achieve a space-saving and more flexible line design.
Accessible: Workers can enter the BoxFreezer even while it is running, because only the product zones are refrigerated.